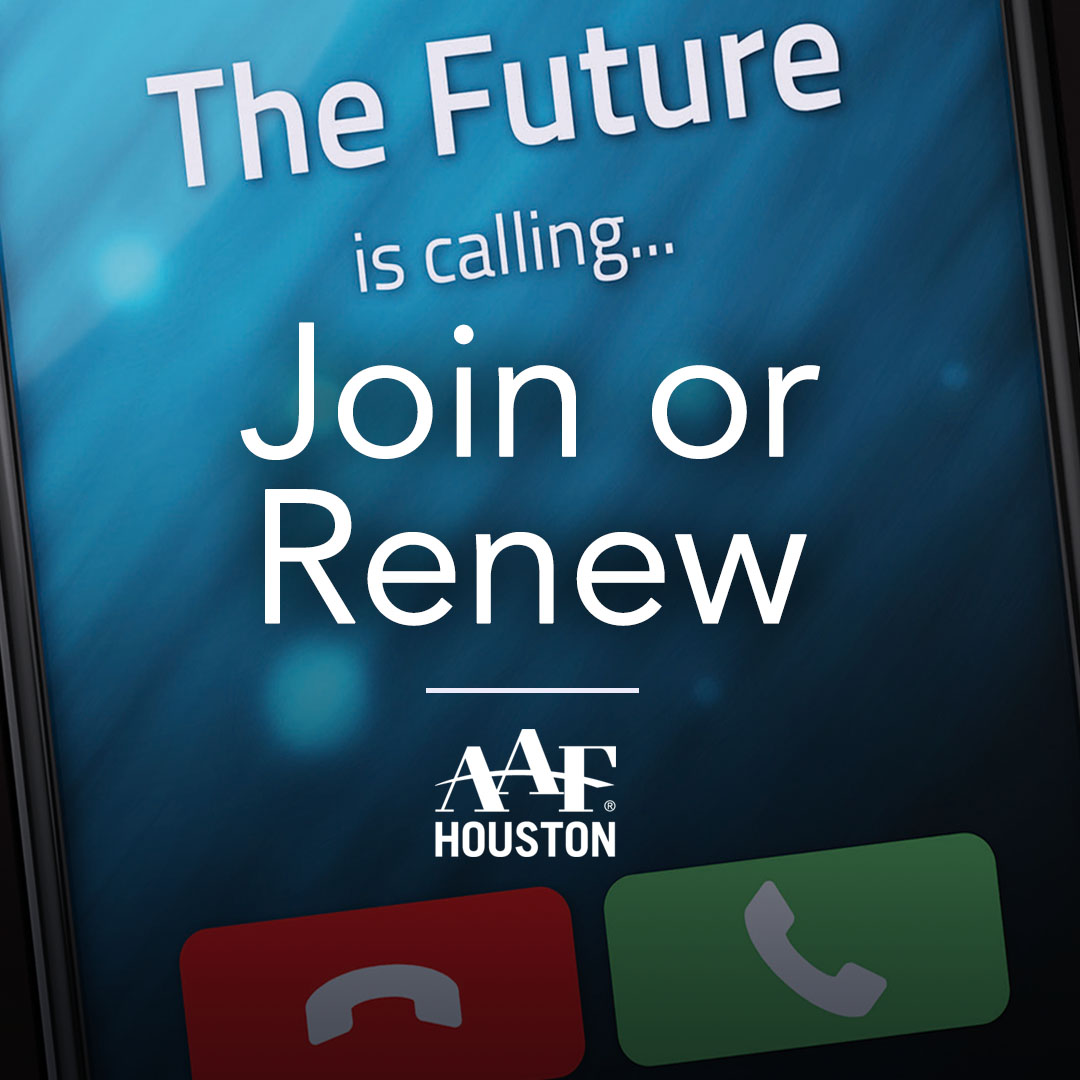 Our next chapter starts now.
AAF-Houston is a 108 year-old organization with a keen eye on the future. Take advantage of a full year of programs, events and benefits when you join now. Agency, small shop, corporate-side, media-side, vendor, supplier, independent creative or in-house practitioner — we have a place for you. Writer, producer, marketer, researcher, photographer, videographer, web developer, digital marketer, designer, illustrator or social media strategist — join the unifying voice of our industry.
Be a part of the 40,000-person national AAF network of industry professionals. When you join our local club, you become a member at the district and national level providing insight and access to regional and national industry trends.
We need you to help build Houston into the communication power city it can be. Our club year started July 1, so join now to get the most of your membership.
$195 Individual Membership Special
$95 AD2 - Young Professional Dual Membership 32 years and under
Corporate Membership Specials
Platinum (21-30 People) $3,250

Gold (11-20 People) $1,650
Silver (6-10 People) $990

Bronze (5 People) $700
Renewing members, welcome back. You do not need to fill out a form unless your contact information has changed.
New members, welcome aboard! Please fill out a membership form and e-mail it to adclub@aaf-houston.org. Use the same e-mail for questions.
* A handling fee will be charged to cover additional processing costs.
As a member of AAF-Houston, you become part of a network of talented professionals and gain access to tools, resources and connections you need to stay current in the industry.
Professional Development: Educational initiatives in leadership, creativity, marketing communication, technology, and digital & social media platforms.

Advocacy for the Rights of Advertisers: Protects and promotes advertising by expanding the recognition of the economic and social values of advertising and communication as an essential industry.

Governmental Affairs: The AAF protects and promotes advertising at all levels of government through grassroots activities. AAF's nationwide network monitors advertising-related legislation on local, state, and federal levels and, when appropriate, puts members face-to-face with influential lawmakers, while encouraging self-regulation as a preemptor to government intervention.

District and National AAF Resources: Materials, website, and professional staff to assist local AAF organizations

History & Legacy: AAF-Houston is one of the oldest trade associations in the Greater Houston area.

Membership: Focus is on bringing corporate advertisers, agencies, traditional and new media companies, suppliers, and academia together through networking socials and special events for members.

College Chapters & Young Professionals: Nurturing the industry's future practitioners through professional development, networking events, and scholarship and internship programs through our foundation, the Advertising Education Foundation of Houston (AEFH). Link: www.houstonadscholarships.com/

Advertising Excellence and Recognition: Award programs at local, district, and national levels that recognize personal, creative, community, and corporate achievemenst in the industry.

Multicultural Initiatives: Industry actively supports multicultural initiatives in education, employment opportunities, and career advancement.

Public Service: Opportunities to apply skills and member resources to address issues and help solve community concerns.

Local Discounts: Members receive discounted tickets for Luncheon Speaker programs that feature prominent industry leaders and speakers both in Houston and when visiting other AAF chapters.

Discounts on American Advertising Awards (ADDY) Entry fees are available to AAF-Houston members. A membership will pay for itself with the savings earned on only a few entries.

AAF District and National Discounts: Local Houston membership includes District and National dues, including available event registration discounts. AAF-Houston members have exclusive access to National AAF discount programs for goods and services – aaf.org.
SIGN UP FOR OUR NEWSLETTER
Stay up to date on all things related to AAF-Houston and to our industry. Follow us on our social channels to get the latest on upcoming events and to learn about our members.